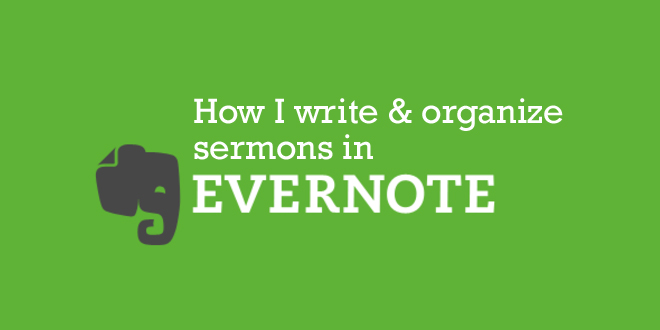 In episode 56 of Preachers in Training, I mentioned that I am now using Evernote to write my sermons. I'm not sure why I resisted going to a simpler application for creating a sermon outline. For whatever reason, I thought that I needed the power of Pages with it's tab functions and whatnot. Until one day I found myself having written three or four outlines in Text Edit on my Mac, and I thought to myself "Why?!"
I have always wanted to get better at Evernote. My procrastination stems from the fact that I originally used it in ignorance. I would just dump tons of information into Evernote, thinking, "One day I'll get in here and organize things. Plus, I can always just search for whatever I want." But something felt empty with that type of Evernote experience. I would read the blog posts from all of the productivity and leadership experts and hear them sing Evernote's praises.
Well, I'm happy to report that I've finally taken the plunge and begun my Evernote journey.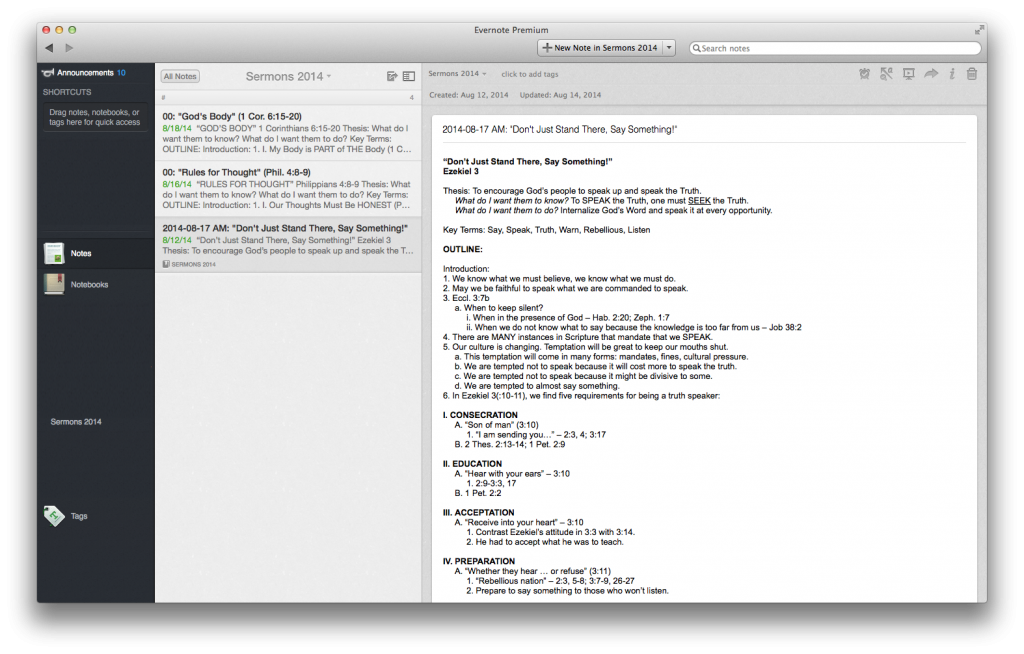 I gave my old Evernote a quick glance and mercilessly purged almost everything in it. Then, I began rebuilding. I created a notebook called "Sermons 2014" and created a template to use for each new outline. I placed that template into TextExpander for easy access. Now, all I have to do is create a new note in my "Sermons 2014" notebook, and simply type "ssermon" (see the extra s?). Immediately, my template is inserted. It's even formatted and everything!
Here's my blank template that I put into TextExpander:
[divider]
"TITLE"
Text
Thesis:
What do I want them to know?
What do I want them to do?
Key Terms:
OUTLINE:
Introduction:
1.
I. ZZZZZZ
A. ZZZZZ
1. ZZZZZ
Conclusion:
1.
[divider]
Contrary to popular belief, the Zzzzz's are not indicative of when people to go sleep! I use the Zzzzz's simply as placeholder text. It works for me because all I have to do is double-click the line of z's to select them, then I start typing. It's quick and easy for me.
Let's talk about the title of the Evernote note for a minute. I wanted to structure it in a way that would automatically order itself in the order that the sermons were presented, January through December, AM and PM. First, I set my list preferences to list the notes by title. Then, I decided to use a format that would work well with that list setting. Here are a couple of examples:
[box type="shadow" align="aligncenter" ]2014-08-17 AM: "Don't Just Stand There, Say Something!"
2014-08-17 PM: "What Life is All About"[/box]
It's simple, but it's working for me right now. The best part is that Evernote is automatically syncing all of my sermons to the cloud, and they're all searchable.
What program do you use for sermon writing? How do you back up your sermons and organize them for quick access later? Leave your thoughts in the comments below.