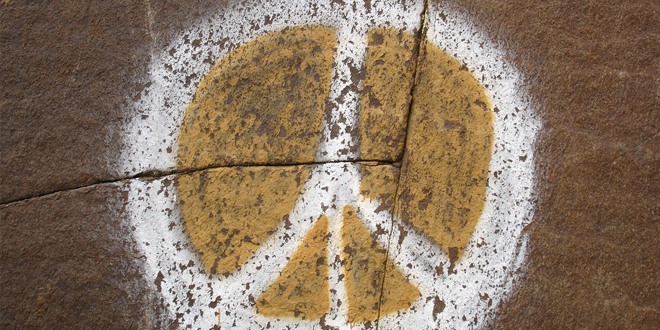 Webster defines peace as "a state of tranquility or quiet." The definition goes on to define peace as the absence of war or fighting. It could even include the agreement to end war.
The Bible has a lot to say about peace. It naturally contains a lot about peace because it's Source – God in heaven – is the God of peace. Romans 15:33 and Romans 16:20 both emphasize that God is the God of peace.
We often talk about love and how God is love (1 John 4:8). When we say that God is love we mean that love comes from God; we can't know love apart from God. I submit to you that it is the same way with peace. God is the God of peace, and you and I will not know true peace until we have a relationship with God. The same could be said of Jesus, couldn't it? Isaiah prophesied that Jesus would be the "Prince of Peace" (Isa. 9:6).
The Sermon on the Mount shows us that the theme of peace is an important part of our Lord's teaching. He says, "Blessed are the peacemakers, for they shall be called sons of God" (Mat. 5:9). Who is Jesus calling blessed here? Is it world leaders who do whatever it takes to avoid wars between countries? Is it social activists who rally in peaceful protest in defense of a cause? Is it two individuals who put differences aside and choose to get along rather than to fight? Being a peacemaker includes all of these things, but it goes deeper than that. You can't know peace if you don't have a relationship with God and with Jesus Christ.
That's why, when Jesus was born, the angels praised God saying, "Glory to God in the highest, and on earth peace, goodwill toward men!" (Luke 2:14). That's why Paul says that "to be spiritually minded is life and peace" (Rom. 8:6). That's why the Hebrews writer puts peace and holiness together in Hebrews 12:14 and says that without both of these "no one will see the Lord."
There are some things that, if we truly want them to be a part of our character, we can only receive from drawing closer to God. I think sometimes we forget that when it comes to characteristics like love, unity, and peace. When Jesus says, "Blessed are the peacemakers," He's pointing us to the God of peace and to Himself, the Prince of Peace. Once we have that peace, then the passage in Romans 12:18 begins to be possible: "live peaceably with all men."
Let's wrap it up: There is an inseparable link between God and peace. That's why Paul says, "live in peace; and the God of love and peace will be with you" (2 Cor. 13:11). James says that the wisdom that is from above is peaceable, and that the fruit of righteousness is sown in peace by those who make peace (James 3:17-18). Be a true peacemaker by first securing peace with God, and then you will be ready to strive for peace with your fellowman.