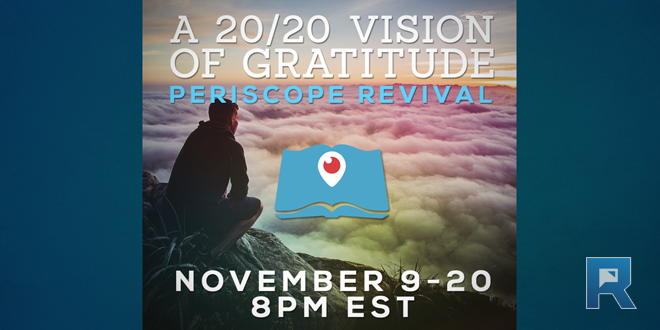 I was blessed to participate in the first-ever Periscope Revival last night (Tuesday, November 10, 2015). This is a fun little project (that quickly grew into a not-so-little project) that Adam Faughn put together. The theme for the event is "A 20/20 Vision of Gratitude."
The revival spans the better part of two weeks (with the exceptions of weekends and Wednesdays), and includes nine speakers. Each night's speaker delivers a brief presentation on a selected passage of Scripture about gratitude, and concludes with several minutes of audience interaction.
My presentation was titled "Gratitude for God's Freedom," and it was based out of Romans 6:17-18. You can watch the replay below.
Be sure to check out the other presentations in the Periscope Revival. Plus, you can still tune in live for the rest of the sessions. Click here to learn how to participate and to watch archived presentations.
To God be the glory!