In the late 1800's, Davison and Fillmore penned the words to an old song that we sometimes sing in worship:
Purer in heart, O God, Help me to be;
May I devote my life Wholly to Thee;
Watch Thou my wayward feet,
Guide me with counsel sweet;
Purer in heart, Help me to be.
During His teaching, Jesus placed great significance upon the heart. In the Beatitudes, the fundamental tenants of discipleship, He said that the pure in heart will see God (Mat. 5:8). That is HUGE!
Perhaps the best way to define what it means to be pure in heart is to offer what it does not mean. Purity is the absence of filth. The Bible says that sin stains our souls like scarlet (Isa. 1:18). When sin is in my heart – when I think sinful thoughts – then my heart is impure.
The problem is, I know my heart. I know that my heart isn't always as pure as it should be. Certainly there's room for improvement in my life. Can you relate? If only those with pure hearts will see God, then I have to figure out how I can transform my heart.
You can transform your heart when you remember two important Biblical truths.
1. You must be willing to pay the price.
Paul said that we are to be a living sacrifice (Rom. 12:1-2) that is not conformed to this world, but transformed. He shared with us how we can transform our hearts in that very text. First, he says that God's mercy plays a part in our heart transformation. Then, he states that, as a living sacrifice, we are to be holy and acceptable to God (this is what we have been called to do). Finally, he says there that we will be transformed when our minds are renewed. That word "renew" means to renovate. When I think about a renovation, I think about gutting what used to be there to make way for all of the new things that are going to replace the old things. That's what we are to do with our hearts.
2. You must realize that no one can change their hearts by themselves.
Look carefully at Psalm 51. In verses seven and ten, David, as he longs for forgiveness and cleansing, states that he can't do it on his own. It's going to require God's help. He says, "Purge me … and I shall be clean … Create in me a clean heart, O God, and renew a steadfast spirit within me." He's saying, "I can't do it alone. I need God's help."
David is absolutely right. I can't do it on my own. No matter how hard I may try, I can't cleanse myself of my sins. That's why Paul says that we are saved by God's grace (Eph. 2).
Let's wrap it up: Do you want to see God? Then you have to work towards purifying your heart. Surrender yourself as a sacrifice to God – both in body and in mind – and let God cleanse you and change you as you apply His Word to your life.
[divider]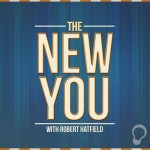 This is a partial transcript from my weekday podcast, The New You, where we focus on maintaining and accentuating the new that Christ created in each of us as Christians. A new episode is available each Monday through Friday on The Light Network. Click here to see all of the episodes.